Every home is unique from the contents to the occupants. Whether you share a home with family, friends, roommates, or children, the laundry still needs to be done, the dishes still need to be washed, and cleaning still must happen. In a multi-person home the chores and other cleaning responsibilities can be difficult to track and assign, especially with roommates, spouses, and children who actively avoid cleaning. In this post, we'll share 10 useful apps to help assign and track everyday chores so the weight of chores is more evenly dispersed throughout the home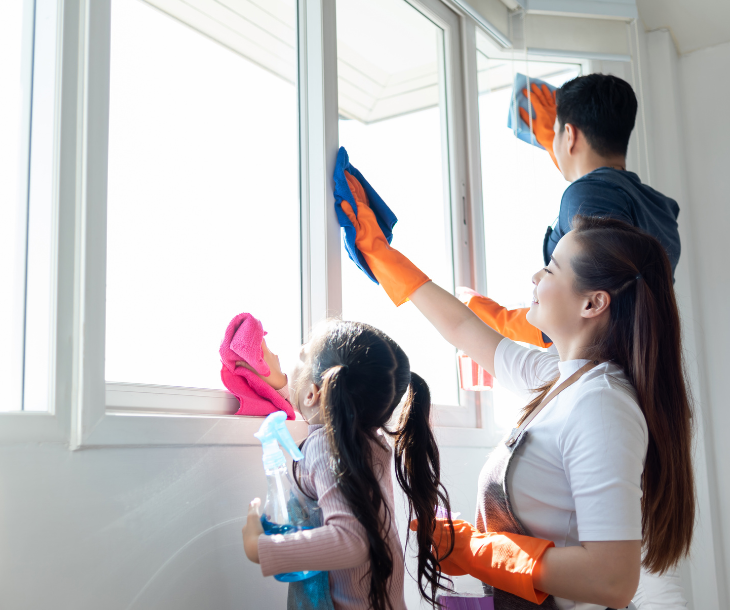 1.

Our Home
Allocate chores and rewards to family members with OurHome app, parents can give their kids one-time jobs, reminders, and recurring chores with points so they don't have to write down the same things over and over again. Recurring chores automatically renew after the time period you select. Parents may set a goal for their children to work towards, such as different sums of money or screen time.
Available on: iOS and Android
Cost: Free
2.

Tody
Tody is a smart chore assistant that organizes chores into hierarchies according to their frequency and estimated time investment. The app keeps you from feeling overwhelmed by categorizing the tasks that need to be done around the house and is essential for splitting each chore into an achievable unit.
Available on: iOS
Cost: Free
3.

Handy
Handy is the easy way to get everything done with just a tap. Find a reliable cleaner, a licensed plumber or electrician, a reliable painter, or any other professional for the job. In over 30 cities around the world, Handy is reinventing how people work from home. Handy is an app worth having on hand when your hands are busy.
Available on: iOS and Android
Cost: Free + cost of hiring a professional
4.

S'moresUp
S'moresUp app is powered by AI and helps each family member take more responsibility for household chores. The app is highly customizable and allows users to connect calendars to plan family events and more. S'moresUp also has a parenting community to discuss parenting tips and tricks.
Available on: iOS and Android
Cost: Standard plan: Free; Premium plan: $4.99 per month
5.

Chore Checklist
Chore Checklist is a chore planning and management app. This app will help you organize household tasks. It keeps track of the date the job is due and calculates the next due date based on your preferences. You can also set a reminder for each job. It comes with a readily available checklist along with routines like "Daily Routine", "Weekly Routine", "Monthly Routine" etc. You can edit the existing routines/jobs or add new ones.
Available on: iOS and Android
Cost: iOS - free / Android - $1.99
6.

Chore Pad
Chore Pad is a system for assigning, tracking, and rewarding tasks that can help parents and kids know who is supposed to do what and when around the home. While any sort of family chore chart can get complicated, cluttered, and ignored, Chore Pad is a smart and easy way to choose, assign, organize, and track chores. If your family is aboard with using organized tracking systems and rewards, Chore Pad will definitely be an option to consider.
Available on: iOS
Cost: $4.99
7.

Cozi Family Organizer
This app is best for Free Home Organization Help. Cozi is an all-in-one family organizer app that lets you manage your appointments and activities in one place. Some features include tracking school events and virtual class schedules, managing shared shopping lists, and getting the whole family involved in household chores.
Available on: iOS and Android
Cost: Standard plan: Free; Cozi Gold plan: $29.99 annually
8.

BusyKid
BusyKid is the first and only chore app that lets kids earn real pocket money and choose how to save, share, spend and invest. BusyKid uses technology to modernize the outdated system of allowances, allowing children to receive their weekly wages directly for household chores and providing a myriad of modern money management options; including saving money, donating to charity, or investing in the stock market.
Available on: iOS and Android
Cost: $3.99 per month or $38.99 annually
9.

Done
Done helps you create a healthy routine by setting goals, tracking progress, and motivating yourself, all in one simple and clean package. This app is designed to help you break bad habits. It includes a series of color-coded charts, graphs and progress reports that work together to help you improve your cleaning habits and use your strengths to be more productive.
Available on: iOS and Android
Cost: Free
10.

FamZoo
FamZoo is an online virtual family bank. It helps busy parents teach their kids good money habits. This allows parents to teach their children through hands-on exercises and includes, teaching them to earn, save, spend and give money wisely. At FamZoo, you act as a banker and your children represent your customers. By using a prepaid card account, your child can access his / her account and view it from his / her shared online dashboard.
Available on: iOS and Android
Cost: $5.99/month
Benefits of Using Chore Apps
If you're having a hard time getting your kids involved in chores, the household chore apps can be a fun way to change the routine. With the many chore apps available, you can decide what kind of rewards to give your child and when to complete them. More importantly, keeping track of allowance and chores, can be a challenge and a chore in itself. Here are some of the ways in which Chore apps can add value to your household:
1.

Better Organization
The Assignment and Tasks apps provide a central place to assign, track, and manage tasks which were previously folded into sticky notes and notebooks. You can check on your child's progress and communicate regularly through the app, virtually from any location.
2.

Better Connection among Family Members
Family apps that anyone can access will help you stay in touch with your child. You can spend time together sharing moments about money and life, work ethic, a good job, and other things that matter to you. It can also help inculcate a sense of belonging and ownership in your kids.
3.

Better Living (in a digital world)
In digital era, many families spend more time with electronic devices than they do without. Why not take advantage of this fact and put technology to work for your home? Not only can you use your smartphone for communication, but you can also use it to bank, learn, stay connected, set reminders, keep track of appointments and other dates, follow family and friends, and more.
Please let me know what app works best for you and your family!